Are you following the correct axis for buying benarasi sarees for wedding occasions?
Still, pave your way towards Kiko Clothing to set the right track of fashion through their exquisite benarasi saree for weddings.
Women from all communities adore the bridal benarasi saree and trim them on their wedding days with some or other costumes.
As we know, wedding banarasi sarees are the evergreen ensembles ruling the fashion market for decades and are one of the most desired attires every woman wants to have in their wardrobe.
Now shopping is not far from your wedding date. You only have to go through this blog and explore our top vibrant banarasi sarees collections with a few clicks and some scrolls, and your fashion statement is ready.
One can easily acquire this vibrant benarasi saree online from Kiko Clothing by realizing the types of fabric, color, design, and other features that would help them sort out the best for their wedding event.
Types of Benarasi Sarees for Wedding in the Indian Peninsula
Indeed, though this popular ethnic vesture originates from Banaras, it has fame nationwide and even in the global fashion market.
Almost across all the communities and regions of India, banarasi sarees have their traces and flavor of ethnicity that count the hails of people in different traditional functions of that region.
Bengali Benarasi Sarees for wedding
Women of West Bengal love to wear banarasi sarees as wedding wear more than for other functions. They believe this vesture brings prosperity to the couples because of the serenity and glory behind its origin.
Most women choose red as the color of fabric for the banarasi sarees to attend Bengali marriage functions.
These ensembles are rich in Jangla & Cutwork designs that cherish the beauty of the Bengalis and pile up appreciation from near and dear ones.
Benarasi sarees for a wedding in Gujarat
Rare we know that apart from Banaras, Gujarat is also part of the history behind the existence of banarasi sarees in India.
Tanchoi designs from China came to Gujarat that works on synthetic fabrics to provide affordable banarasi sarees to all the customers who desire a piece of this royal attire in their wardrobe.
Apart from Tanchoi design, the traits of Gujarati banarasi sarees see exceptional Jamdani and Sikargah designs that literally relate to the creatures, flora and fauna, hunting, and ethnic lifestyles.
Banarasi sarees in North India
Like other regions of India, the Northern part has a different description of ethnic fashion through banarasi sarees with composites of ultramodern and traditional art styles.
Every North Indian Woman loves heavy designs on the body part further than in the free-ends (Pallu) of the saree. They prefer cutwork and butidaar designs with organza and tissue fabric as a base for their banarasi sarees.
Top Vibrant Benarasi Sarees for Wedding from Kiko Clothing
Banarasi sarees bring grandeur and a befitting fashionable look on the wedding days. Be a bride or non-conformer; royalty of this regal attire remains the same.
If you want to have the same feel as your wedding trousseau, Kiko clothing gets you cover on the following top wedding benarasi sarees for you.
1. Red & Black Woven Design Banarsee Party Wear Semi Silk Saree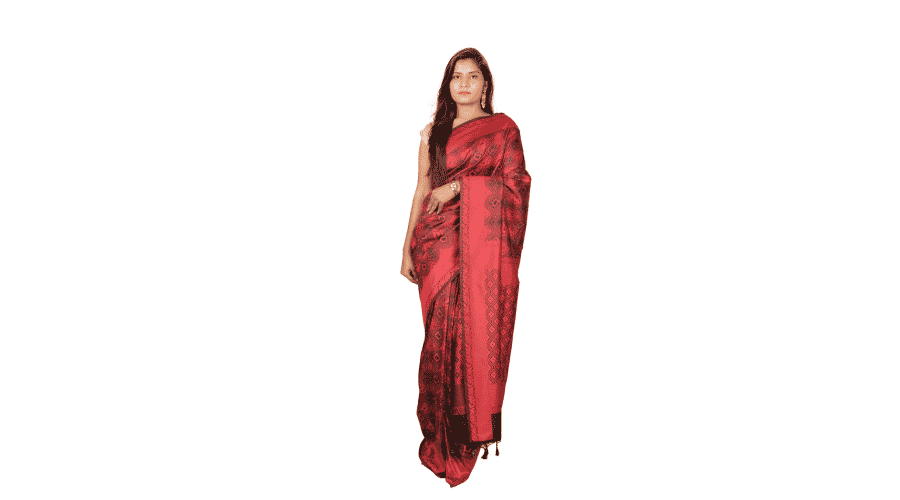 This saree comes with inspiring ancient Mughal art and has prints of birds and elephants on the semi-silk fabric.
The square size motifs on the Pallu give a classic and elegant look to the wear and tear.
With Red and Black woven fabric and tassels at the end, it comes in the row of one of the most demanding traditional benarasi saree online that one must have in their wardrobe.
Interested in this traditional banarasi saree? Buy Now.
2. Cream & Red Woven Design Banarsee Party Wear Semi Silk Saree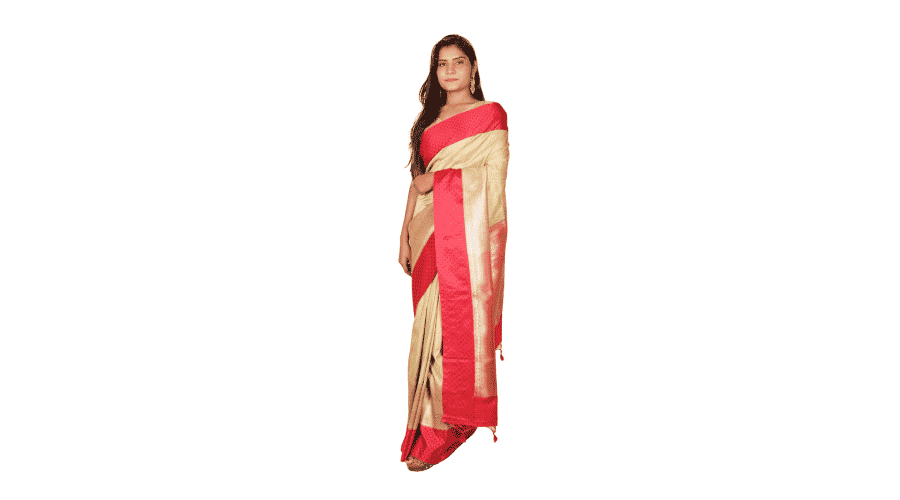 A glaring Cream color fabric with beautiful red weaving art on the base looks charming when one drapes it with the pleats for the wedding functions.
This banarasi saree is simple yet mesmerizing because of the fleck prints on the whole length of the fabric, with Zari working on the free-end.
To cherish your look with this exquisite banarasi saree, Click Here.
3. Black & Pink Motifs Floral Zari Banarsee Party Wear Semi Silk Saree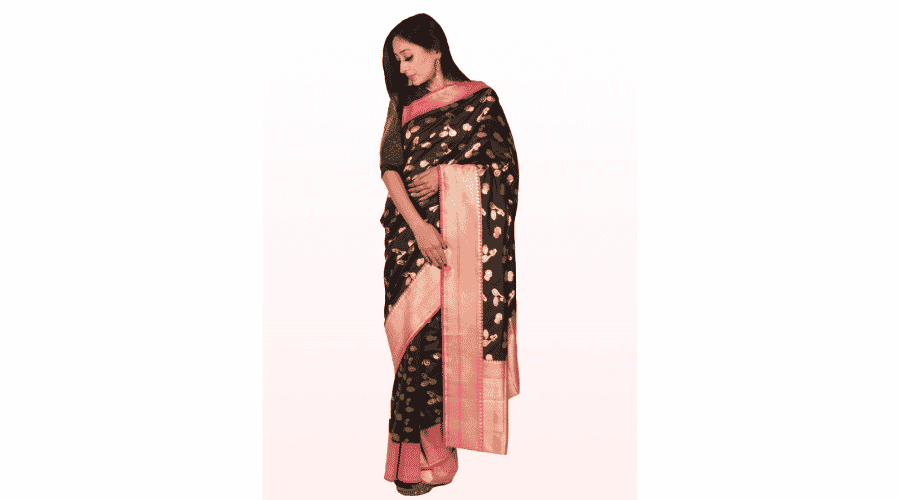 This saree Adorns its charm with the scintillating Zari designs of musical instruments as the conception for the whole fabric and heavy delineations on the Pallu.
It is a crowd-pleaser attire that will add glamour to your fashion and steal the appreciation of others at the party.
The pink color border on the four sides of the black fabric gives an ultimate finish to the look that personalizes the beauty of the dapper exponentially.
Buy Now this Banarasi saree to flaunt your beauty.
4. Cream & Red Woven Design Banarsee Party Wear Organza Saree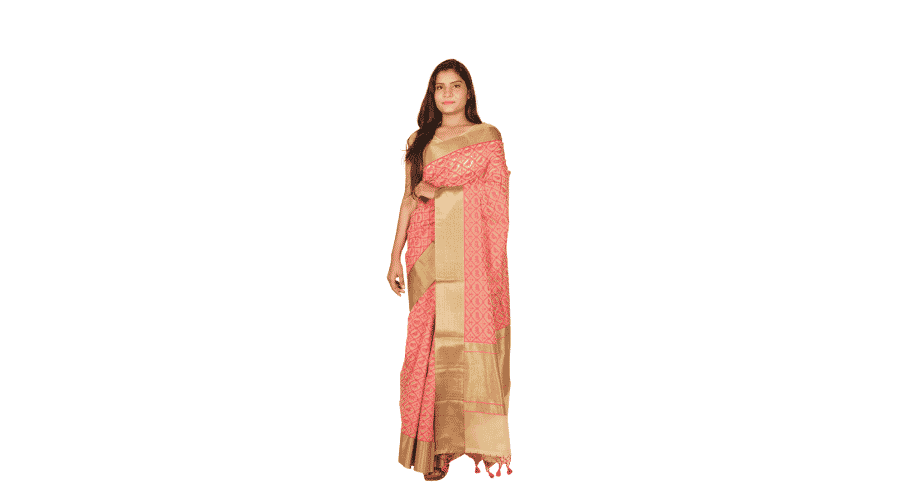 Kiko Clothing suggests this exquisite benarasi saree for the wedding as it holds nonstop block patterns with elaborating elephants and tribal art in whole-length fabric woven with red thread.
Willing to get the grace of attire in the fests and occasions? Trim it with suitable footwear and beautifiers that would match your beauty as well as the color of the dress.
You are just a Click away for enticing your outfit with this adorable suit.
5. Peach & Gold Floral Zari Banarsee Party Wear Semi Silk Saree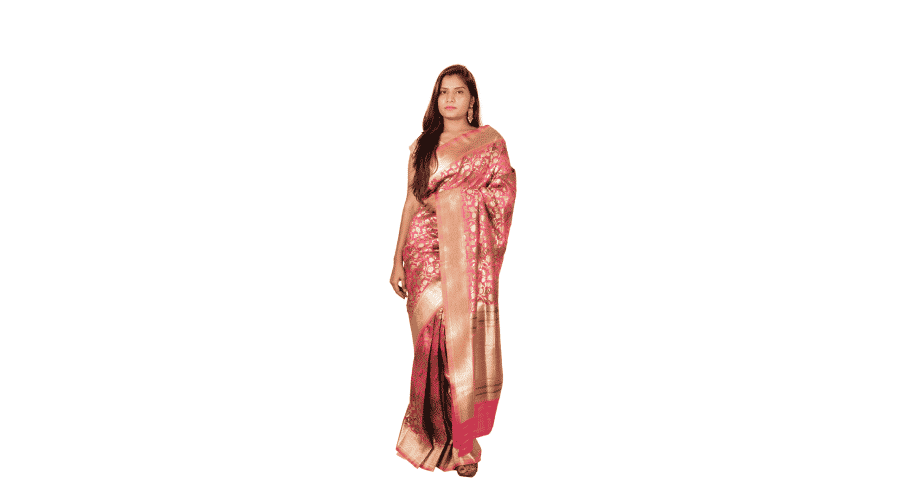 Some sarees hold the serene natural foliage as a part of fancy designs in the ensemble. This peach & Gold set has a majestic look because of the serenity and fanciness it covers with the vibrant color to attain the stunning look for the marriage function.
It is the utmost embracing piece of fashion for women, especially for brides, as the color is pleasant with the beautiful weavings scattering all over the surface.
You can explore some further bridal and matrimonial banarasi saree with price tags from Kiko Clothing according to the color and designs of your choice.
Shop Now to add this fascinating ensemble to your wedding trousseau.
Conclusion
It's not the conclusion; It is just the inception. The census of vibrant benarasi saree for wedding from Kiko Clothing is umpteen. You can explore the banarasi sarees for weddings price-wise from the e-catalog to trim up this wedding season once you fix your necessary outfit conditions and budget.