Summer fashion turns out to be challenging when choosing from options prevailing in the market, and pondering adopting the right dress becomes difficult. Chikankari Kurti for Women can be a better choice to drape for spring-summer in 2022 to relieve the scorching heat.
With the warm weather taking its peak side, balancing fashion and skin health is highly essential for every woman to be on the safe side.
We at Kiko Clothing bring you the flavor of glamour and comfort to enjoy this summer with our exquisite Lucknow Chikankari Kurtis online for the summer wardrobe.
There is no need to be indecisive while searching for the best apparel to flaunt your fashion this summer. Down the blog, you will explore the best Chikankari Lakhnavi Kurti collections for you.
How is Chikankari Kurti for Women a better fit for Summer Fashion?
Every woman loves to have wear that would look beautiful and comfortable throughout the day. Tolerating the effects of heat is only possible through hygienic food and a suitable dress to wear.
Particularly in India, when the climate turns red, you must take care while choosing fabrics to chill your body from the heat.
A piece of soothing apparel from breezing fabric will be the best definition for your summer wardrobe.
What can be more breathable than chikankari lakhnavi Kurti for women to try this summer? It is the best cloth one seeks to get to don for the sunny days.
Chikankari Kurtis comes in silk, linen, and cotton and are the praising fabrics for the summer days.
According to Statista, Kurtis for women in the Indian ethnic apparel market has a share of 51%. This survey shows the growing demand for apparel nationwide.
Best Chikankari Kurti for Women for Spring-Summer 2022 from Kiko Clothing
Why go outside when Kiko Clothing is at your doorstep with the beautiful and elegant Chikankari cotton kurtas for your summer outfit?
It brings you the best collections that match your budget, size, and body complexion. With myriads of embroideries, hem works, stitching, and comfortable fabrics, Kiko Clothing is all set to dress up your personality this Spring & Summer in 2022.
We help you find the best between fashion and pleasure by curating the top-class summer wear Kurtis from Kiko Clothing.
1. Pink & White Rose Bel Lucknowi Chikankari Casual Georgette Kurti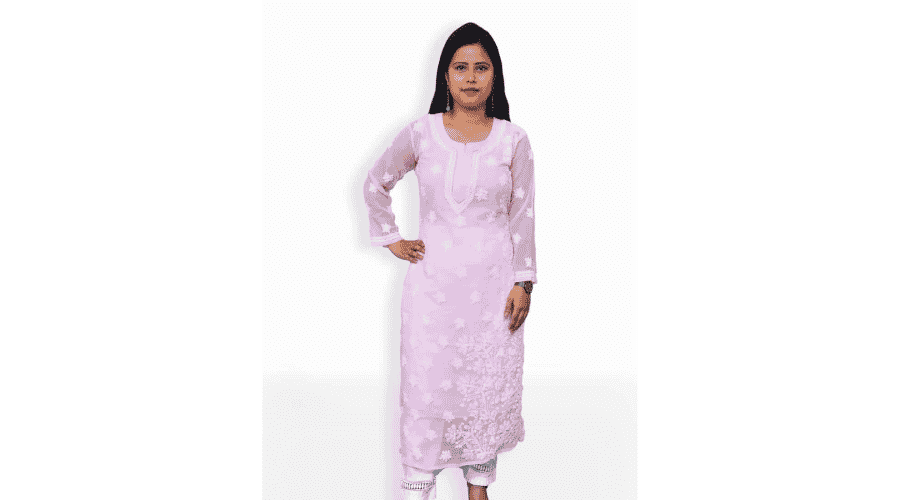 You will feel glad to have this kurti in your summer wardrobe with the softer color tones of pink and white combination.
This simple ensemble will make you fall in love with the transparent and breathable georgette fabric with white rose bel embroideries.
To beautify your outfit, you can accentuate a flaring dupatta (a scarf) and bring the trait of ethnicity hidden within you.
If not, you can replace the bottom of the Chikankari Kurti set with jeans or free-end palazzos to showcase your summer style.
Thinking to buy this Kurti? Visit Here.
2. Yellow & White Ghas Patti Lucknowi Chikankari Casual Cotton Kurti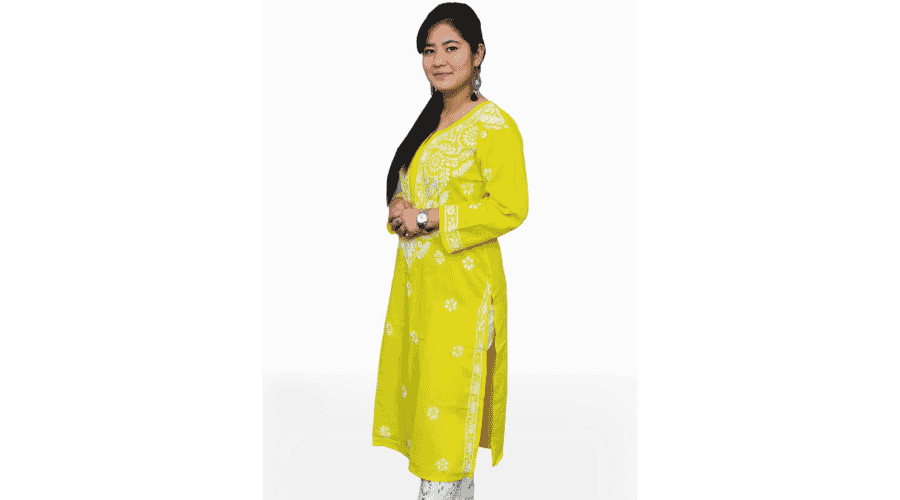 A bright yellow-white duo is ready to rock the summer party with your elegance through the intricate embroideries on the neck base.
In addition, the continuous floral motif designs through the white thread on the opposite sides of the border and in the sleeves make it more charming and fascinating for every woman to drape it on sunny days.
As cotton wear, it can fulfill your fashion needs on all occasions. It means this apparel is ready to adorn your wardrobe for all seasons.
To make it more fashionable, try to drape it with minimum accessories. Adding a dupatta with slightly high heels and a few metallic ornaments is enough to achieve your fashion goals this summer.
To style in your own way with this mesmerizing suit, Buy Now.
3. Blue & White Gala Daman Lucknowi Chikankari Casual Georgette Kurti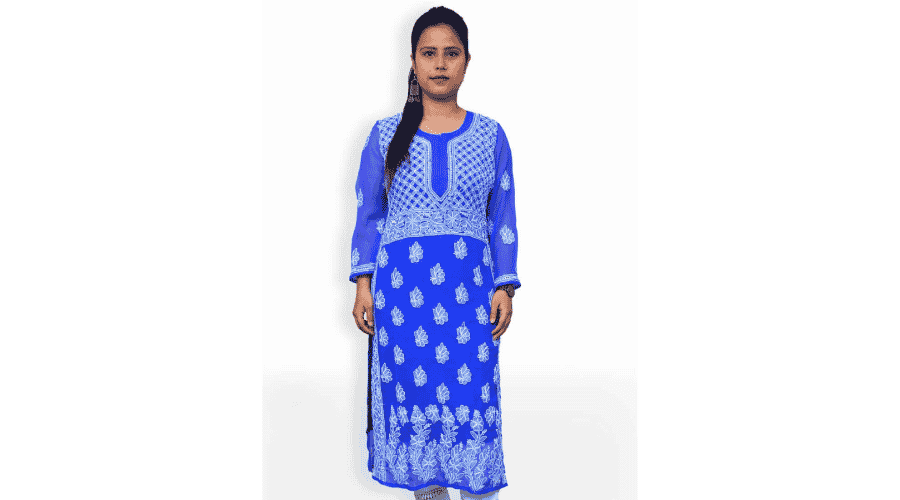 It's a pleasure for every woman to have a dress that has a tradition with a contemporary approach.
This Georgette Lucknowi Chikankari Anarkali Kurti looks gorgeous and boasts of the Mughal art style that specifies the Gala Daman stitching pattern on the neck portion of the apparel.
Gala Daman patterns mainly focus on the heavy decoration of floral and ring designs around the neck with beautiful flaring ends.
Fell in love with this Kurti at the first sight? Buy Now.
4. Peach & White Gala Boti Gota Lucknowi Chikankari Party Wear Cotton Kurti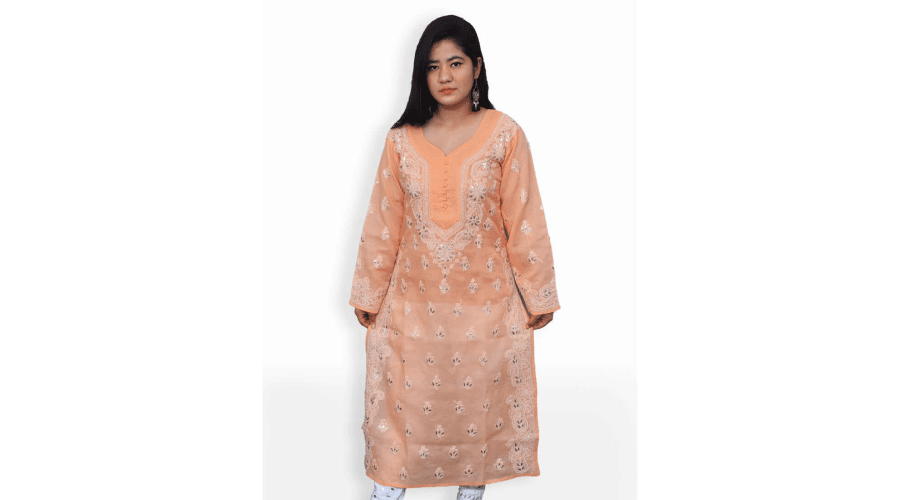 An indispensable fabric to face the heat, cotton has a good call when you are searching for ensembles for summer fashion.
This auxiliary lightweight cotton wear from Kiko Clothing in peach color is best for the regular-cum-party wear in summer festivities.
The comfort and serenity you get are true to their quality. It also helps you ooze out the Indo-Western look with elegant beauty.
Buy Now this enchanting Kurti piece to tackle the heat of summer.
5. Grey & White Gala Daman Lucknowi Chikankari Casual Georgette Kurti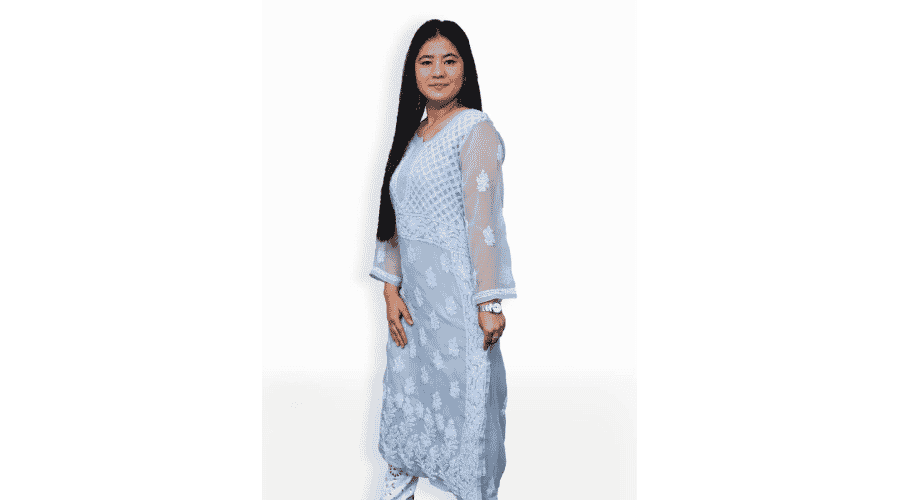 Sometimes apart from fabric, color plays a vital role in bringing freshness, both mentally and psychologically. A pure pastel color is soothing to look at and wear to beat the heat in summer.
This Grey apparel from Kiko Clothing boasts the above characteristics within it.
It admires changing your summer wardrobe and making you the fashionista through its exquisite Gala Daman designs throughout the fabric.
Ready to buy this pretty Kurti? Click Here.
Kiko Clothing – The best platform to buy Chikankari Kurtis for Women
Aiming to bring the ethnic fashion and fashion fanatics under one roof through the expert skills of artisans, Kiko Clothing has an adorable collection of Lucknow Chikankari Kurtis for Women.
We have an array of party and casual wear with authentic handmade designs that describe the fashion through its elegance and comfort.
We love to share the options of the best fashion outfits with our customers according to their choice and budgets.
Conclusion
Shopping Chikankari Kurti for women from Kiko Clothing will inspire you to make your ethnic lifestyle full of fun and comfort to face the heat in summer. Ascend your fashion statement with the above lists of Chikankari Lakhnavi Kurtis, and enjoy the summer.