Buying Benarasi Saree Online is a pack full of fun and excitement for the brides to adorn their beauty on their espousals as they need to look seamlessly beautiful and flawless in the royal outfit.
Silk ensembles from the Banaras are a badge of royalty with luxurious and eye-catching Zari work through the expert hands of Banaras, and every bride desires to have it in their wardrobe.
The present Apparel Market is flourishing with benarasi sarees for weddings under various ranges in price, color, design, and origin.
This blog will help you list out your all-time favorite wedding banarasi saree that will enhance your beauty among your near and dear ones.
What is a Benarasi Saree?
Benarasi Saree is a handwoven ensemble in silk fabric with the imprints of the immortal weaving style of Banaras.
Engravings of Brocade designs with luminous Zari weavings and rich traces of Indian culture make this cloth piece dominate the saree market generation after generation.
Exquisite Benarasi Saree Online for Perfect Wedding
In India, Marriage is a huge ceremony, and brides leap their excitement in shopping for the wedding benarasi saree to ornate themselves for rituals on their memorable day.
A wedding is not about the brides only. It is all about the guests and family members who are an active part of this occasion.
The festive ambiance relies on the appealing appearance of the exquisite clothes they drape to look luscious and make the event a beautiful moment in their life.
To give your attire a gorgeous look, Kiko Clothing has an exquisite collection of benarasi saree with price within your budget with delighting Zari works all over the saree.
Here are some of the aesthetic benarasi saree for wedding you would love to drape during the wedding functions and gather a lot of compliments for your sizzling look.
1. Cream & Gold-Toned Motifs Zari Banarsee Party Wear Semi Silk Saree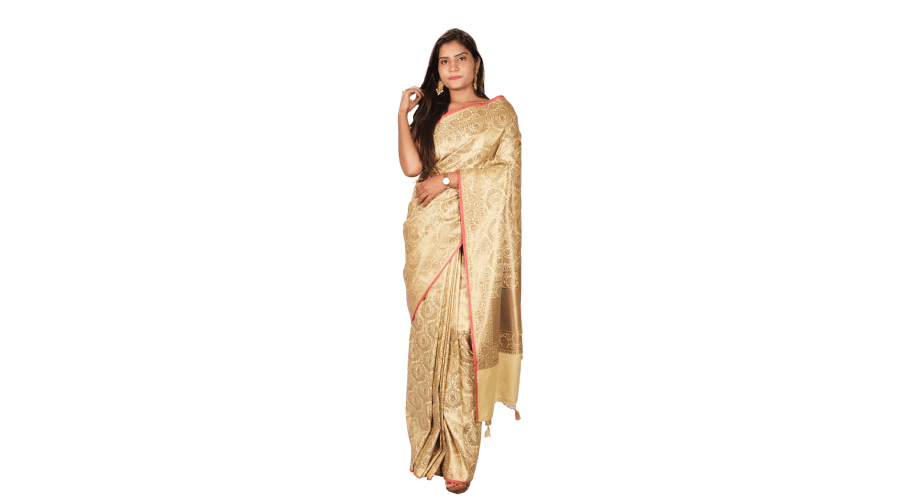 This cream color piece of cloth with golden Zari works will allure your beauty beyond anyone's imagination and bring grace to your fashion statement.
A traditional banarasi saree with typical traces of Indian art style throughout the material will be the center of attraction in the night show.
The main attraction of this semi silk party wear is its parallel weavings of floral motifs and leaves on the fabric with golden threads that will give a sizzling look when donning at the evening parties.
Interested in the Saree? Buy Here.
2. Blue & Golden Tussar Woven Art Banarsee Party Wear Organza Saree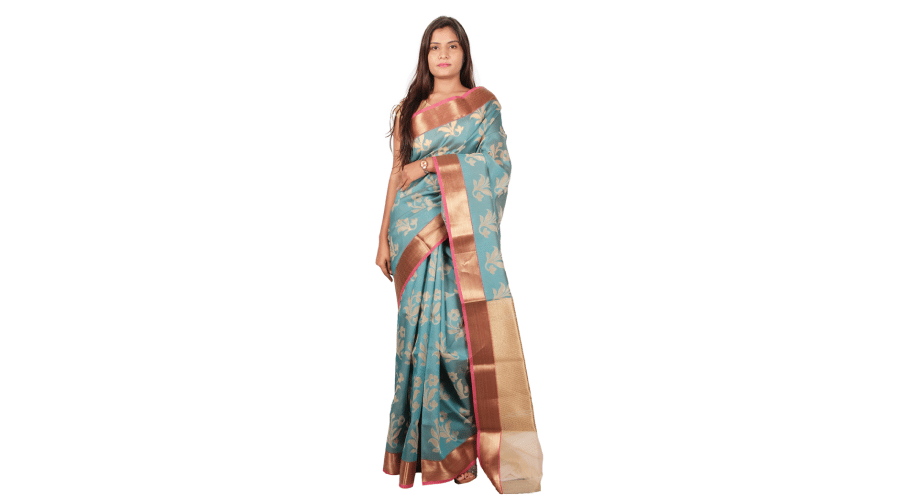 Embrace the elegance of this Blue & Golden Tussar Woven wedding benarasi saree with comfort and style.
An adorable saree from Kiko Clothing, especially for wedding events, is a must-have ensemble in your wardrobe for this wedding ambiance.
This saree has authentic ostentation of Pallu with highlighting golden work that adds glamour to your beauty when you drape it with light golden ornaments and high heels.
Love this Saree? Buy Now.
3. Pink & Gold Woven Design Banarsee Party Wear Semi Silk Saree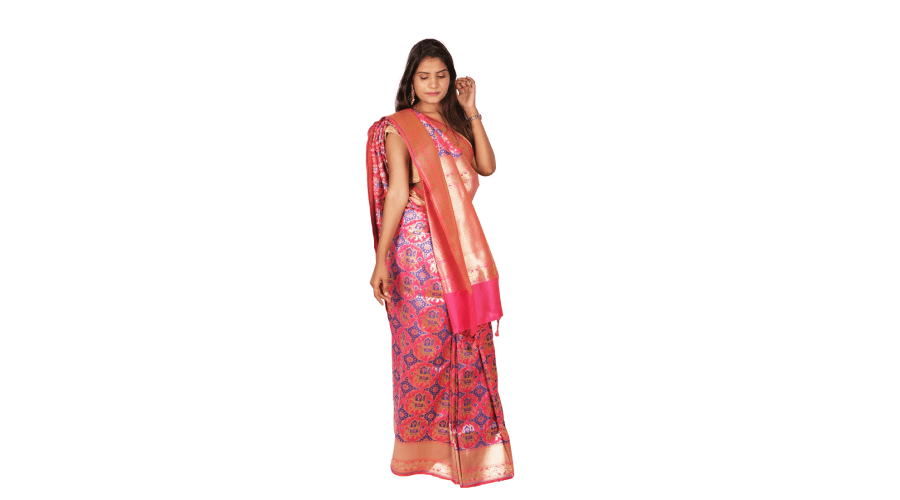 Pink is the favorite when it comes to color choice for women. When they find the same in their clothes, they cheer up the festivity heartfully and catch the eyes of the gathering.
Are you a pink lover?
If yes, this saree from Kiko Clothing will bring a sophisticated look to your fashion statement with its attractive ring-like tassels and magnificent golden weaving design in various patterns throughout the cloth piece.
Colorful thread weaving of flowers and elephants with royal carriage in the saree design replicates the royal life during the Mughal reign with a mixture of traces of Indian culture.
Want to know the Price of this Saree? Check Price Here.
4. Black & Red Woven Design Banarsee Party Wear Semi Silk Saree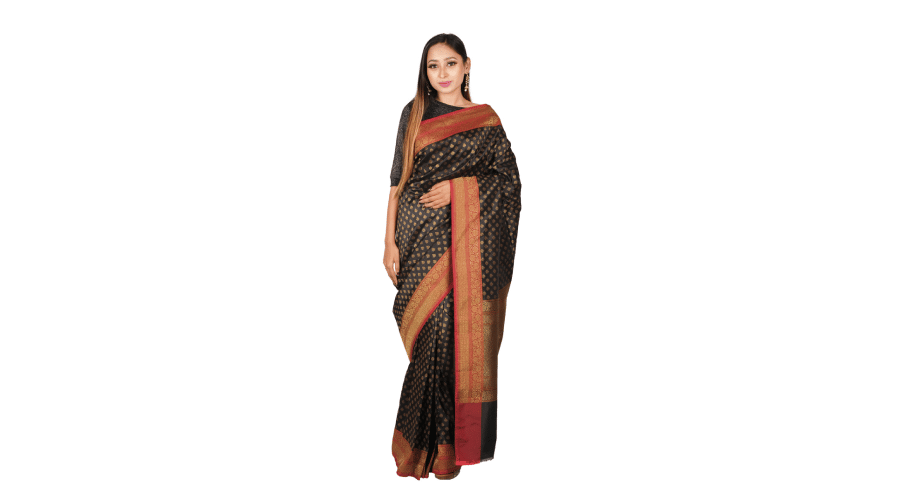 Some women feel the black color is a bad omen for any auspicious functions, but being a guest, it does not make any sense when you wear it to showcase your fashionable look.
The black color adds a gorgeous look that brings slenderness and contrast to your personality and leaps out the diva inside you in the reception.
A splendid color combination of black and red with golden Zari work of tiny paisleys brings the magic of tradition with modern charm to your wardrobe.
Shop Here to get your own style statement with this Banarasi saree. 
5. Red & Gold Motifs Floral Zari Banarsee Party Wear Semi Silk Saree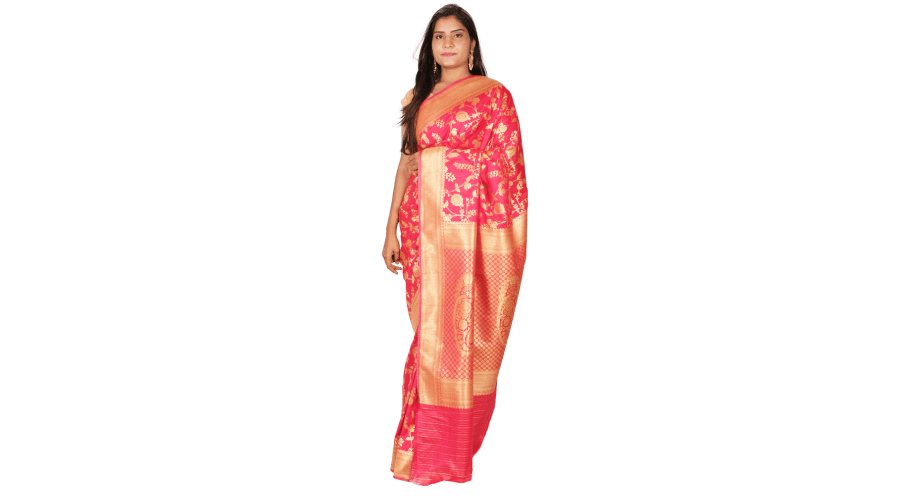 Be she a bride or a guest for the evening, every lady dreams of having a red ensemble in their wardrobe.
In Indian culture, the red color is an emblem of goodwill and prosperity in the newly married life. Hence, Indian brides opt to have a trace of red or complete red saree for their espousals.
This elegant benarasi saree comes with trendy floral designs through intoxicating golden thread works over the semi-silk fabric that will grab the attention of others at the party and magnify your beauty exponentially.
Want to know more about this regal banarasi saree? Visit Here.
Why buy Benarasi Saree Online from Kiko Clothing?
The main objective of this fashion hub is to bring back vintage fashion to the market with blends of modernity and tradition in a single tray.
Kiko Clothing aims to serve its customers with the enormous collections of exquisite and glorious banarasi sarees directly from Banaras, the land of weaves, and enhance the lifestyle of the artisans.
Absolute handmade benarasi saree for wedding with outstanding designs and appealing color fabrics are some of the features that make these authentic ensembles attract people to buy them from this fashion marketplace.
Conclusion
Sort your dressing priorities and grab this exquisite benarasi saree online from Kiko Clothing for the traditional carnival of Indian tradition. Do not forget to ornate a few elements of fashion costumes to highlight your outfit while restyling your fashion statement.