Summer is a blazing season for those who love to shine their look with gorgeous chikankari georgette Kurtis and glaze their persona amid the near and dear ones.
To avoid scorching heat and sweating skin, everyone loves to drape light fabric clothes to soothe their fashion with a cool look.
Are you searching for chikankari kurtis online to tackle this summer in 2022?
Trying chikankari georgette Kurti can be more adoring and comfier to wear other than Kurtis with attractive and splashing embroideries on a colorful georgette fabric this summer.
What is a Lucknowi Chikankari Kurti?
Referring to the traditional fashion wear, Kurti is a typical Indian waistcoat with side slits above the waist.
Artisans imprint the famous chikan embroidery art all over the surface of the kurti fabrics and define this appealing piece of work as the Lucknowi Chikankari Kurti in the Indian market.
Chikankari Georgette Kurtis – A Perfect Wear for This Summer
Lucknowi Chikankari Apparels has been a statement of feminine beauty for an appealing look with the elegant and beautiful designs of floral motifs with art traces of the Persian and Mughal eras.
Women always love to have a good impression among their near and dear ones with their outfits on special occasions. They try various breathable and cozy clothing collections according to the season.
Chikankari Kurti for Women is one of those personable fashion attires that are evergreen from generation to generation.
Relating to the handwork of Nur Jahan, Lady with beauty and skills and consort of Jahangir, the then emperor of the Mughal Empire, Chikankari art was a source of attraction for the novel personalities at that time.
Chikankari art on Georgette Fabric makes it the best and most promising seasonal wear because of the following reasons:
Pure Georgette from Silk yarn is comparatively breathable from synthetic yarns due to the sheer fabric quality.
It is a stable silk compound that is strong enough to embroider on its surface.
These are one of the potential dye fabrics which can capture color hues quickly and dry faster than other fabrics.
This fabric is hypoallergenic and is suitable for sunny days as it reduces skin irritation when we wear it.
Best Chikankari Georgette Kurtis to style this summer
Today's fashion market is trending with Kurtis making them multi-purpose wear as we can use them for a casual look and in party functions simultaneously.
Kiko Clothing has an appealing collection of Chikankari Kurtis Online from the treasure of Lucknowi Chikankari Art with embellishing designs in the georgette fabric.
Here is the list of those fine attires that you want to add to your wardrobe this summer in 2022.
1. Angrakha Lucknowi Chikankari Casual Georgette Kurti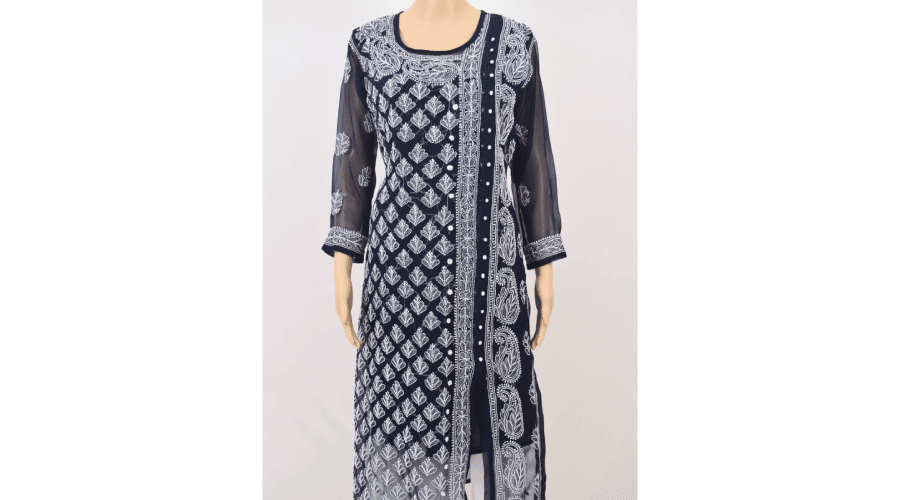 It is one of the mesmerizing classic Kurti sets from Kiko Clothing that has intricate embroideries of Paisleys and leaves patterns through the cloth piece and in the hem of the sleeves.
This Kurti assures a comfortable wearing with classic vibes and highlights the ethnicity of Indian culture.
To get this exquisite kurti, Click Here.
2. Ring Jaal Lucknowi Chikankari Casual Georgette Kurti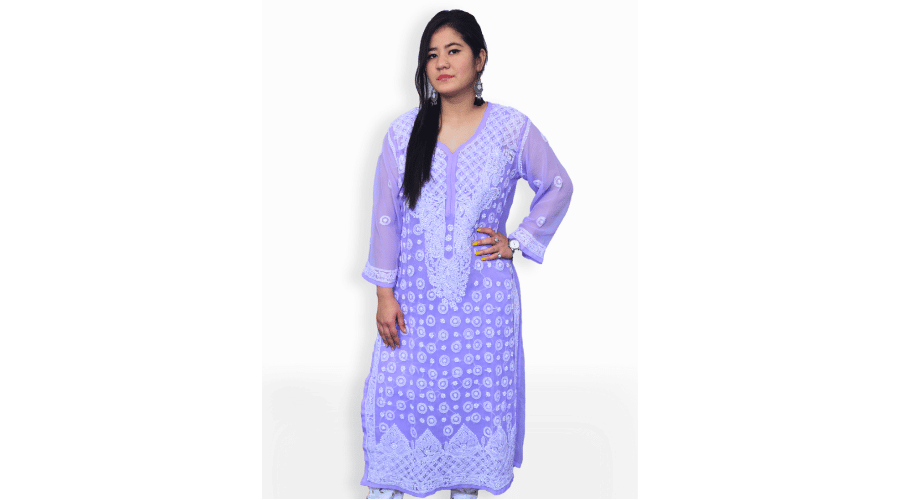 This Chikankari Kurti comes with authentic and magnificent Chikankari art with Ring patterns throughout the fabric to give a subtle look.
It is a simple yet pleasant Kurti for this summer gathering to personalize your fashion statement through an elegant chic look.
Want to have this kurti in your wardrobe? Shop Here.
3. Rose Bel Lucknowi Chikankari Casual Georgette Kurti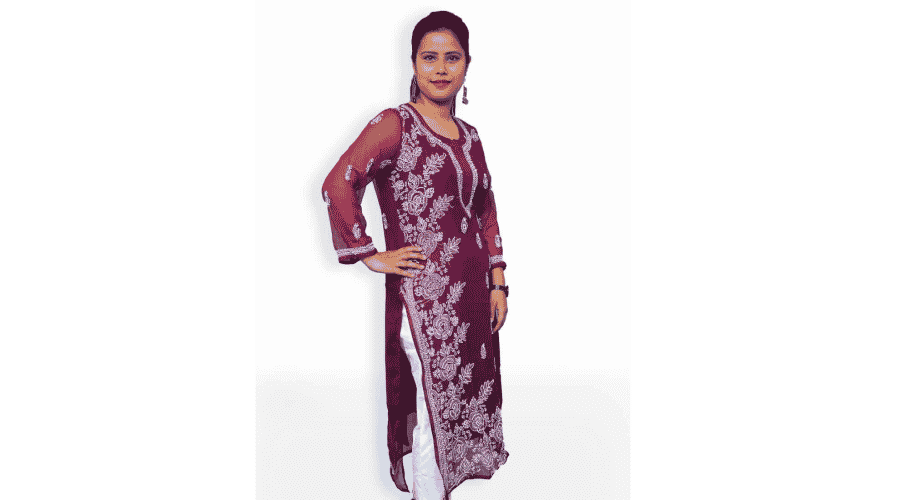 An eloquent rose design in the border with eye-catching small paisleys in patterns gives a natural feel when one drapes this Kurti with rose bel stitch in white thread.
This Kurti from Kiko Clothing adds an essence of simplicity with the imprints of natural vegetation and flowers. It is an exclusive classy and comfortable wear that can be the best choice to beat the scorching heat this summer.
Do you love this kurti? Buy Now.
4. Gala Daman Lucknowi Chikankari Casual Georgette Kurti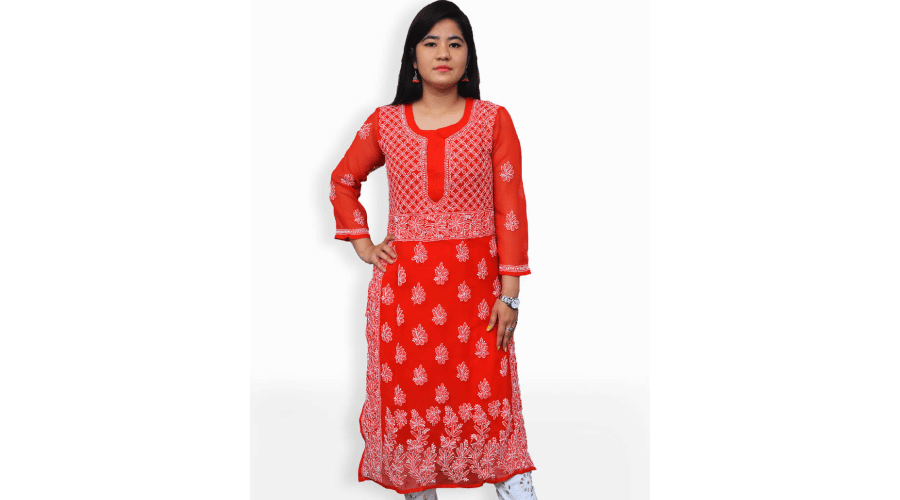 This Kurti Set from Kiko Clothing is an emblem of Elegancy that will flaunt your beauty and gain you a handful of compliments from your friends and relatives.
The intricate embroidery designs round the neck and on the whole body flourish the expertise work of artisans with highly embellishing chikankari art style favors the wearer with a splendid fashionable look this summer.
Buy this beautiful chikankari kurti before it goes off.
5. Palti Boti Lucknowi Chikankari Casual Georgette Kurti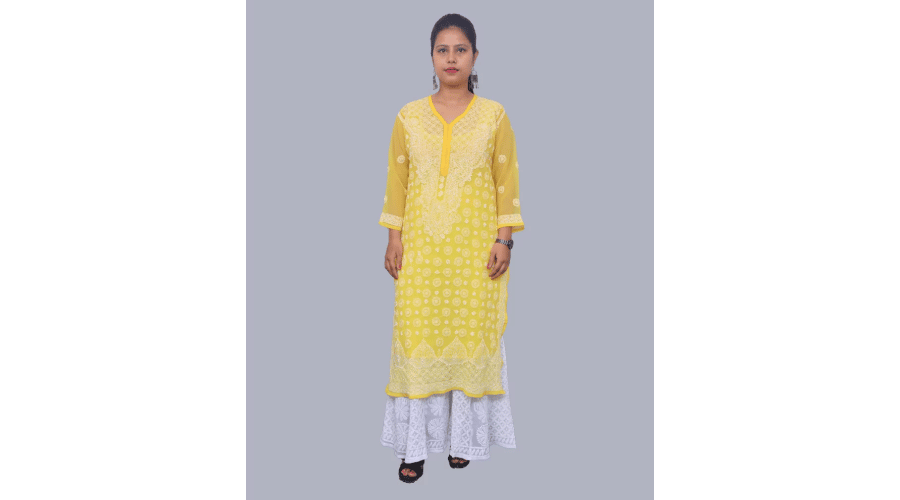 A flawless and authentic handmade Kurti that ensures the comfort of the wearer with delicate palti boti design on sophisticating pure georgette fabric.
Palti Boti is one of the delicate stitching styles that depict the flora and fauna designs in the fabric on the reverse side so that the print highlights on the front side.
Nothing could be prettier than this exquisite cloth piece for your summer wardrobe.
Shop Here to add this kurti to your summer closet.
Tips to Groom Your Persona with Chikankari Georgette Kurtis This Summer
Give a kink to your dressing style through a retro outfit with a fusion of ethnic and western wear to bring depth to your fashion statement.
Here are a few pro tips to make this summer a blissful one with the appealing Kurtis from Kiko Clothing.
Choose Flowy Bottoms over tight fits: A flowy bottom wear of light-weight is preferable over tight jeans as it gives an airy feel and makes your day go comfortable.
Sync a Scarf (Dupatta) to bring the magic: Add a scarf or Dupatta to your classy costume to bring the magical charm to your fashion.
Accessorize with ornaments to complete your look: It is incomplete without some ornaments that adore your beauty multidimensionally. Try to add a simple yet classic trinket with lighter designs than a heavier one. Set a perfect tone for your sunny look through pleasant sunglasses.
Conclusion
Refresh your look in this infuriating summer with the Chikankari Georgette Kurtis from Kiko Clothing to mesmerize your chic look during the party functions. Don your personality with these exquisite Kurtis, and bring the best to your fashion statement this summer.